Geothermal resources inc. is the property of:
the county of Vukovar-Srijem 50%
municipality Babina Greda 50%
-the project stretches on the surface of 47 ha
-investment is 200 million Euros
-300 new work openings
-the hole project requires two new wells to a depth of more than 2000 meters, and the cost is 35 mill
-the research done by INA d.d. in the year 2002 on the boring built in 1984 and 1985, which is situated on the area of municipality Babina Greda, indicates the big potential of geothermal resources on that area
-part of the wellbore was tested to a depth of 2274 to 1774 meters, and in that interval the Mesozoic carbonates were pierced
According to the results of these measurements, the most productive interval is to a depth of 2055 to 2053 meters, while the rest of the source participates in the production with a lower share.
geothermal power plant
mariculture (catfish and eel breeding)
Construction of the cold storage
construction of the drying plant for fruits and vegetables
fitness trails for horses and the construction of the kennel for horses (LIPICANCI)
construction of geothermal riviera with all the facilities
development of rural tourism , ecological production of healthy food
This is the final version of the economic zone; raw materials and money are insured, work will begin in October, the investment worth is around 50 mill euros, and the expected number of people hired is 200.
NEW MUNICIPALITY BUILDING
INVESTMENT  IN  BABINA GREDA
For the new municipal building 1.9 million kn
BABINA GREDA  – Fund for Environmental Protection and Energy Efficiency last week made a decision on direct participation in co-financing the project of sustainable construction for "The building of the Municipality Babina Greda". A request for financial support the residents of Babina Greda submitted in early September. The total investment is 4.6 million, of which 2.6 milion are the Fund eligible costs, which are related to environmental protection and energy efficiency.  Of this amount is approved financial aid in the amount of 71.26 % , or 1.9 million. Basic technical characteristics of the project acceptable to the Fund, said in explanation of the decision, are: structural parts of the ceiling and exterior walls of low thermal conductivity, which provides optimal thermal protection measures, and windows with thermal break and built double glazing, resulting in reduced consumption of energy to meet the energy needs of the building compared to a standard building.The remaining funds for the construction of the new building will provide the Municipality of Babina Greda from its budget, and the money is, as we learn  fromChief  Josip Krnić, already secured, thanks to the power plant in the business zone.
– We have received a payment of 1.6 million of Uni Viridasa for the first payment for the land – says Krnić.
The new administrative building, the size of about 280 square meters, will be built on the site of the former dairy in the village center. With offices there  will be two business spaces that the Municipality will be able to rent to young entrepreneurs for their  start-up companies, and this will help them to operate easier . And in due course Babogredci intend to establish an agency for development. Deadline for completion of this  investment is the end of 2016. For 15 days, acording to Chief Krnić, Municipality moves in the process of public procurement and tendering. He added that as of 2018, all public buildings that are being built in Croatia will have to meet at least A class energy efficiency.
– Our new administrative building of the Municipality will be A + energy rating, so-called passive house, the first public building of its kind in Vukovarsko – srijemska županija, which I believe and beyond. It was a pilot project that we have been doing. It will have photovoltaic panels on the green roof, heat pumps, isolation, a minimum quantity of heating, it will produce energy for itself, and the excess will be deliver in the energy system. Through a number of years it would have to pay for itself- concludes Krnić.
OLD BUILDING – MUSEUM
The current town hall was built in 1800, and it is under  protection . "For the cost of electricity and gas every year we supply the amount of 80 thousand, which means that in ten years we will  save about 800 thousand kuna for heating. In the old building, we will create a project and run it on the competition of the Ministry of Culture. We intend to turn it into a municipal local museum where they will be exposed  the work of local artists, as well as handicrafts, folk costumes … and thus somehow round up the story of the rich cultural offer in our village, "said Krnić.
The new  Municipal building is very importatnt to people from Babina Greda because it will show the progress of their little village. It will improve their public view to every other village in the close area. The new building will also show the ability of their Chief Josip Krnić and his asociates. That it is a very good sing that their village is very well guided.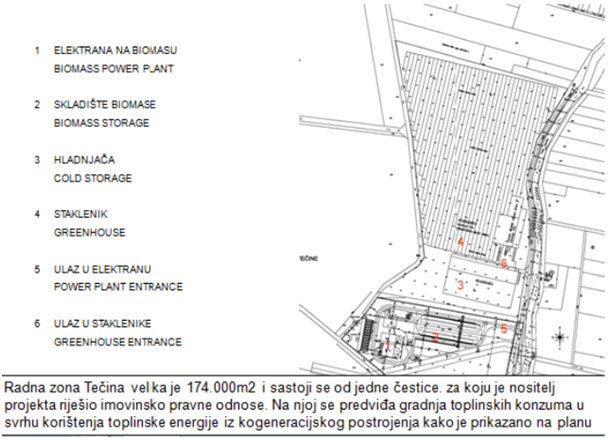 -biomass power plant (9,7MW)
-one half of the County Vukovar-Srijem will be supplied
Greenfield investment:
COGENERATION PLANT uses biomass in indirect gas-turbine processin order to get electricity and heat.
Total number of the stuff in the plant and greenhouses will be 200.
SPORTS AND RECREATION CENTER
Sports and recreation centre: value of this project is around 1 million Euros, and it will affect our rural development. The centrewill have the lot of inner and outdoor sporting choice:
athletic track – full size
2 tennis courts
climbing wall
indoor and outdoor gym
Turkish and Finnish sauna
indoors badminton and swatch courts
big outdoor court made of artificial grass – full size
Also, the centre will have a restaurant and a hotel with 20 double rooms, as well as a grandstand with around 150 sitting places.
PROJECTS IMPLEMENTATION IN THE MUNICIPALITY BABINA GREDA
Construction of the roundabout – total investment is 3.400.000,00kunas + taxes  (the corresponding part of the municipality is 491.308,63 kunas)
1.The project of reconstruction and conversion of the office building in Babina Greda into the volunteer fire department building
– reconstruction of the volunteer fire department building
-total worth: 1.467.749,69kunas
-funding :
municipal budget: 543.126,97 kunas
Ministry of Regional Development and EU funds: 748.000,00kunas
Fund for Environmental Protection and Energy Efficiency – 176.622,72kunas
– furnishing of the volunteer fire department building: 131.593,27 kuna
-municipal budget: 66.369,33 kunas
– the county of Vukovar-Srijem co-financed with 65.223,94 kunas
The building of reading and community room "Donja Mala"
investment worth 653,78 kunas
co-financed by The Ministry of Culture: 220.000,00 kunas
municipal budget: 653,78 kunas.
The building of the road that leads to the business zone "Tečine"
-total worth: 1.285.972,50kunas
– Ministry of Regional Development and EU funds: 1.157.375,25kunas
–municipal costs include project documentation: 172.847,25 kunas
4.Purchase of the utility supplies – bins and containers
-purchase of 960 green and blue bins and 5 disposal containers worth 477.847,65 kunas
– Fund for Environmental Protection and Energy Efficiency co-financed with 348.400,00 kunas
-municipal budget: 129.447,65 kunas
CANDIDACY
To theFund for Environmental Protection and Energy Efficiency:
The energy certificate of public lighting – 12.000,00 kunas + taxes
Development Strategy for the Municipality
Purchase of the utility supplies – 100 composters- 58.112,00 + taxes
Purchase of the 960 yellow bins – 144.000,00kunas + taxes
– the plan of the Energy Sustainable Development for the municipality – 60.000,00kunas +taxes
PROJECT DOCUMENTATION
Three Spatial plans of the municipality Babina Greda have been carried out: total worth:
37.500,00kuna                                                                                                            
1. Preparation of project documentation for the energy efficient municipal building
– in progress
2. Preparation of project documentation for the sports and recreation centre
-in progress
WATER SUPPLY AND SEWERAGE
3.Project documentation for sewage was financed by the Ministry of agriculture in the amount of 486.731,00kunas and 121.682,75 kunas were taken from the municipal budget.
Implementation of water supply throughout the municipality was worth
3.486.802,02kunas.
SCHOLARSHIPS
Since 2009 , the municipality of Babina Greda funds each year with 1,000.00kunas per month 10 students , and so far for this purpose was spent 540,000.00 kunas .
A total number of scholarships given throughout these yearsare 49 for the students from the municipality of Babina Greda .
Below are important links that can be useful:
Vlada RH   Croatian government
MINPO – MinistarstvopoduzetništvaiobrtaThe Ministry of Entrepreneurship and Crafts
HGK – HrvatskagospodarskakomoraCroatian Chamber of Economy
AIK – Agencijazainvesticijeikonkurentnost agency for investments and competitiveness
Vukovarsko – srijemskažupanija, Vukovar – SrijemCounty
Ministarstvopravosuđa Ministry of Justice
MinistarstvoregionalnograzvojaifondovaEU Ministry of Regional Development and EU funds
Ministarstvopoljoprivrede Ministry of agriculture
Narodnenovine, OfficialGazette
Zakon.hr, Croation Legislation
Središnjikatalogslužbenihdokumenata RH, Central catalog of official documents RH
UreddržavneupraveVukovarsko – srijemskežupanije, Office of state administration Vukovar – Srijem County
Katastar – Cadastre
Geoportal – View spatial data
ARKOD – View spatial data
Hrvatskizavodzazapošljavanje   The Croatian Employment Service
SlužbenivjesnikVukovarsko – srijemskežupanije, Official gazette Vukovar – Srijemcounty
APZ – agencijazapoljoprivrednozemljište   agency for agricultural land
AGRONET – potpore u poljoprivredi, subsidies in agriculture
E – izvadak – zemljišneknjige, land registry
Dear friends,come and see for yourself why Finns, Turks and Belgians have put their confidence in our beloved municipality of Babina Greda!